Things I will miss when I leave Austin:
~
The Alamo Drafthouse
which is a great movie theater. The tickets are cheap, but the best part is you can order real food, coffee, beer and wine, desserts, pretty much whatever you might want while you enjoy the show. But they also host events there, like Master Pancake Theatre. This is a show where some movie is mocked (the last one they had was Jurassic Park) and the audience interacts with the hosts while the movie is being played. It is really funny. They also do things like sing-alongs to popular boy bands of the nineties, or eighties power ballads. It's a pretty unique place.
~ The UT Bell Tower. It's just so pretty, even when it is not all festive and lit up in Texas spirit. On normal nights, it is usually highlighted by white lights, and either way it looks so majestic. Everyday at 1 and 6pm the bells play all sorts of medleys too.
~ Texas margaritas. Perfect on a hot summer night - preferably in guava or mango.
~ Good old Texas BBQ. I have not had better brisket prior to coming here. If you come to Austin, having BBQ is a must. Go to
Rudy's
(best food in my opinion, try the brisket) or the
Salt Lick
(best atmosphere - BYOB. We always do at least one trip here with a big group during the summer...its just a bit far out in the boonies. Ordering family style is the best).
~The bats are so cool and always fun to watch.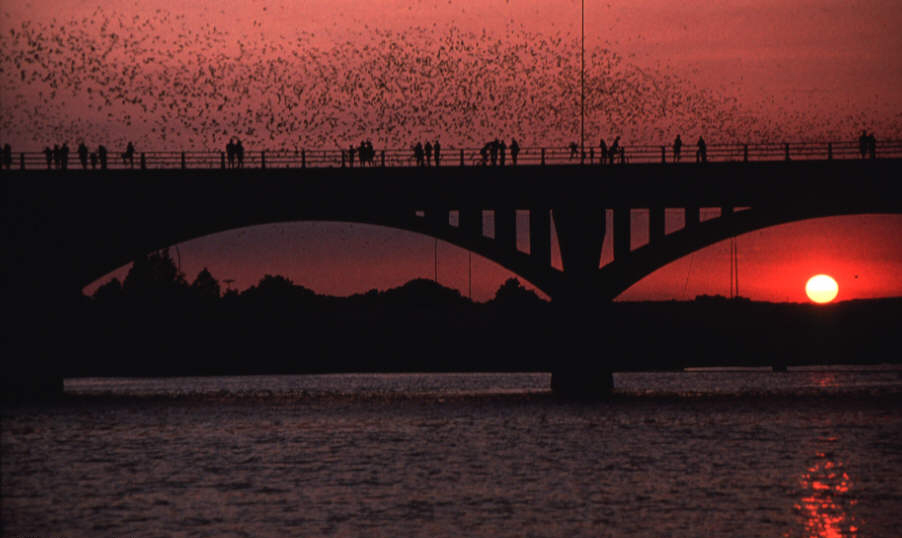 ~ I think our football stadium is bad-ass and one of the most impressive structures I have seen. I have not been to the Colosseum, but when I am standing at the entrance of our stadium it's what I think of. (this is an old picture, taken before they expanded it. Now it is just as high all the way around. With ~100k fans in the stands, football games are SO MUCH FUN.
~ The Brick Oven Restaurant. A cute little hole-in-the-wall Italian restaurant that's in this little old house (not to be confused with the Brick Oven franchise here in town...they are different). Everything is cooked and baked in a brick oven, and the smokey flavor is so tasty. Ryan and I love this place.
~ Russel's Bakery. GREAT coffee, pastries and cake. If I were to get married in Austin, I'd have them make my cake, and I'd have the rehearsal dinner at the Brick Oven!
~ The Texas sun. It's intense, and it does get hot. But I like it.
~ How this city is overall a pretty healthy and active city. There are always people out and about exercising...making me feel guilty when I am not doing the same good for myself. I like that atmosphere about this place.
~ Chips and queso. I never had or even heard of this before coming here. It's pretty tasty, and a Texas thing.
~ Penny Kile. The graduate student administrator. This woman is awesome, and like a second mom to all of us grad. students.
Things I WON'T miss in Austin:
~ anything and everything to do with Welch Hall (aka the Chemistry Building)
~ The kids (who are not poor and needy) who think it's cool to dress up like hobos and hang out on The Drag (main street off campus) and harass you for money, food, the shirt of your back, whatever. They are incredibly rude.
~ the drivers. Texas drivers are the worst....defensive driving is a must around here. You know it's bad when there are signs along the highway reminding people to:
~ The humidity.
~ The mosquitoes!!
~ loneliness of not being close to family.
I am sure there are lots of things great things about Austin not on this list, but being a grad student with limited time, and an even smaller budget I know I am missing out on something. I think this pretty much rounds out my list for the day. I might come back and add other things later...but I am starting to get distracted by other things so I should get back to work!